Seville is a city rich in history, culture, and beauty. From its stunning architecture to its vibrant street life, Seville offers travelers a remarkable experience. When it comes to accommodation, the city doesn't disappoint. Seville is home to a variety of 5 star hotels that provide guests with the pinnacle of luxury and comfort. Seville Unique Experience explores some of the finest 5 star hotels in Seville and what makes them exceptional.
5 star hotels in Seville
Seville, with its rich history, vibrant culture, and stunning architecture, is an ideal destination for travelers seeking a luxurious experience. The 5 star hotels in Seville offer a range of options, from historic palaces to modern design-oriented spaces, each providing a unique and memorable stay.
The next 5 star hotels in Seville are not just places to stay. They are an integral part of the Seville experience, making your visit to this enchanting city even more exceptional.
Gran Melia Colon Seville
Located in the historic center of Seville, the Gran Meliá Colón is a 5 star gem that beautifully combines contemporary design with Andalusian tradition. The hotel's interior is a captivating mix of avant-garde art and classic elegance.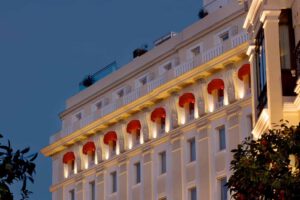 The Gran Meliá Colón Seville offers luxurious rooms and suites, many of which provide picturesque views of the city. Guests can enjoy the hotel's wellness and fitness center or relax by the rooftop terrace pool, which offers spectacular panoramic views of Seville. The hotel's signature restaurant, El Burladero, serves delectable Spanish cuisine.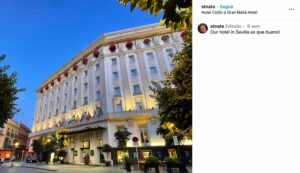 Eurostars Torre Sevilla
Nestled in the heart of Seville, Eurostars Torre Sevilla stands as a shining testament to modern luxury in a city steeped in history and tradition. This remarkable hotel, housed in an iconic skyscraper, offers a captivating blend of contemporary comfort, stunning design, and a prime location for visitors eager to explore the enchanting city of Seville.
Eurostars Torre Sevilla is more than just a place to stay; it's a visual masterpiece. The hotel is ensconced within a striking 180-meter-tall tower that graces the Seville skyline. The tower's innovative structure is characterized by its distinctive, twisting, transparent façade, providing guests with breathtaking panoramic views of the city, the Guadalquivir River, and the picturesque Andalusian landscape.
The hotel offers a range of luxurious rooms and suites, each meticulously designed to provide guests with a comfortable and modern space to relax. Floor-to-ceiling windows bathe the rooms in natural light and offer guests spectacular views that perfectly complement the elegant interior decor.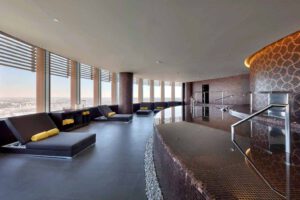 The hotel's wellness center offers a haven of relaxation. Guests can rejuvenate with a workout in the fully-equipped gym, unwind in the sauna, or experience the calming effects of a Turkish bath. On the rooftop terrace, a stylish pool area awaits, complete with comfortable loungers and, of course, those breathtaking views.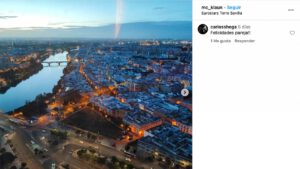 Hotel Alfonso XIII, a Luxury Collection Hotel in Seville
One of the most iconic 5 star hotels in Seville, the Hotel Alfonso XIII is a masterpiece of Moorish and Castilian architecture. Named after the king of Spain who reigned during its construction, this hotel exudes elegance and history. It's located in Seville city center, close to famous landmarks like the Seville Cathedral and the Giralda Tower.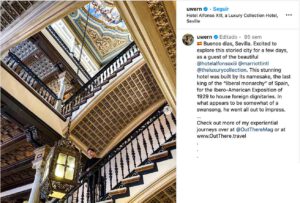 The Hotel Alfonso XIII offers a range of luxurious rooms and suites, each designed with a unique blend of Andalusian, Moorish, and Castilian styles. The hotel also features beautiful courtyards, lush gardens, and a stunning swimming pool. Its exquisite dining options, like Restaurante San Fernando, serve traditional Andalusian cuisine with a modern twist.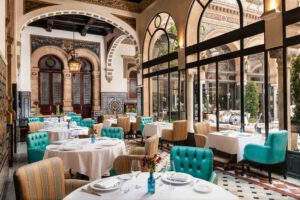 Hotel Palacio de Villapanes Seville
If you're looking for a 5 star hotel that offers a glimpse into Seville's noble past, the Hotel Palacio de Villapanes is a perfect choice. This former 18th-century palace has been meticulously restored to provide guests with a taste of grandeur and elegance.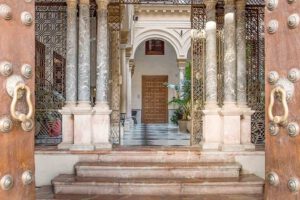 The hotel's rooms and suites are a blend of classical and modern design, offering a sense of opulence and comfort. The central courtyard is a tranquil oasis where guests can enjoy meals or simply unwind.
EME Catedral Hotel Seville
Situated right next to the majestic Seville Cathedral, the EME Catedral Hotel is a design-oriented 5 star hotel that promises a unique and unforgettable stay. The hotel's architecture seamlessly integrates with the historic surroundings, offering a modern contrast to the ancient backdrop.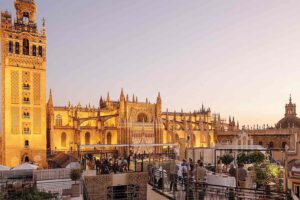 EME Catedral Hotel Seville[/captio
The EME Catedral Hotel Seville provides various accommodation options, including stylish rooms, luxurious suites, and exclusive penthouses with private terraces. Guests can enjoy a rooftop swimming pool and several dining options, including 20 Pasos, where they can savor Mediterranean cuisine while enjoying breathtaking views of the cathedral.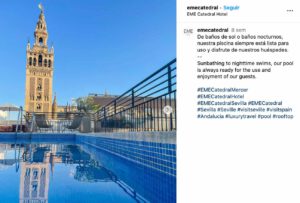 EME Catedral Hotel Seville; Fuente: Instagram
Hotel Mercer Seville
For travelers seeking a more intimate and exclusive experience, the Hotel Mercer Seville is an excellent choice. This boutique 5 star hotel is nestled in the historic Barrio del Arenal, known for its winding streets and charming atmosphere.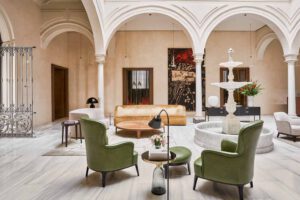 Hotel Mercer Seville
The Hotel Mercer Seville boasts beautifully designed rooms and suites that seamlessly blend contemporary luxury with the historic architecture of the building. The property features a stunning courtyard where guests can savor a meal or a drink, and a rooftop terrace offering panoramic views of Seville.