Seville's tapas scene is not just a culinary experience. It's a journey through history, tradition, and innovation. So, let Seville's tapas be your guide to a tapestry of flavors that will linger in your memory long after you've left this city. In this gastronomic journey, Seville Unique Experiences delves into the best tapas in Seville.
Best tapas in Seville
Seville, the capital of Andalusia in southern Spain, is not just a city rich in history and culture. It's also a paradise for food lovers. One culinary tradition that stands out in Seville is the art of tapas. These small, flavorful dishes are a cornerstone of Spanish gastronomy. Seville boasts some of the best tapas in the country.
Before diving into the gastronomic adventure, it's essential to understand the historical roots of tapas in Seville. The term «tapa» is believed to have originated from the practice of covering glasses of wine with a small plate or «tapa«. Over time, these small snacks evolved into a culinary tradition of their own, with each region in Spain putting its own twist on tapas.
Jamón Ibérico
Spain is renowned for its cured ham. Jamón Ibérico holds a special place in Seville's gastronomy. Sliced thinly and served at room temperature, this delicacy is a testament to the country's dedication to the art of curing ham. A must-try for any food enthusiast. Visit local markets such as Mercado de Triana or Mercado Lonja del Barranco to savor this culinary masterpiece.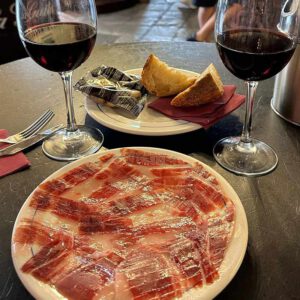 Gazpacho and salmorejo
Seville's warm climate calls for refreshing dishes. Two cold soups, Salmorejo and Gazpacho, fit the bill perfectly. Salmorejo, a thicker version of
Gazpacho, is made with tomatoes, bread, olive oil, garlic, and vinegar, creating a creamy and flavorful soup. It's often garnished with hard-boiled eggs and Jamón.
Gazpacho is a cold tomato soup blended with peppers, onions, cucumbers, garlic, and olive oil. Served in a glass or bowl, it is a refreshing choice on a hot Sevillian day.
Both soups showcase the abundance of fresh produce in the region and are staples of Andalusian cuisine.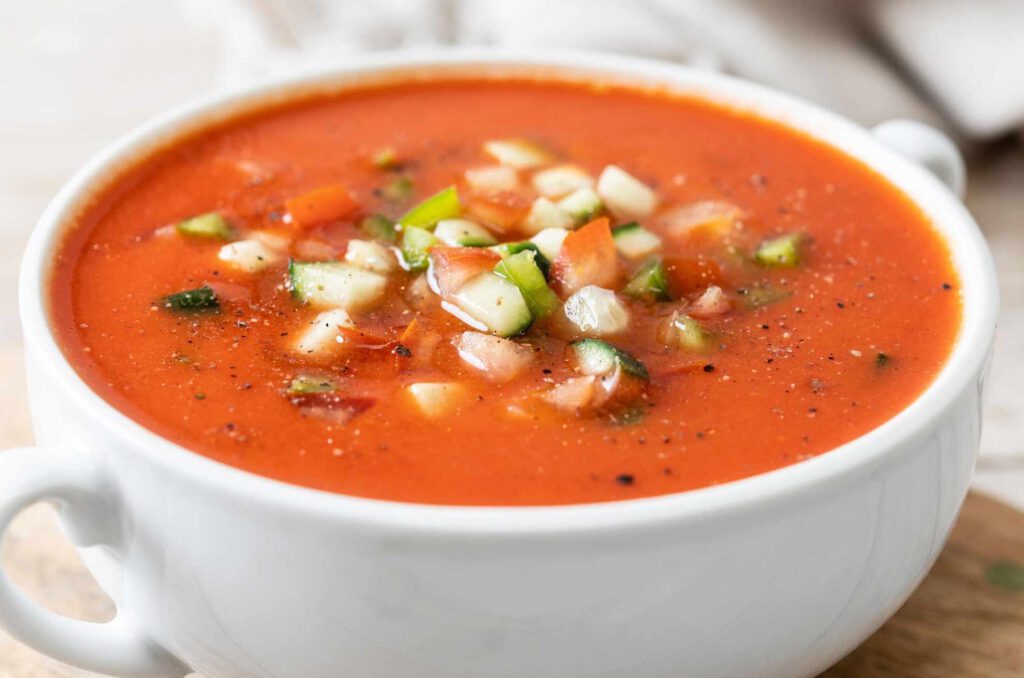 «Montaito de pringá»
The «montaito de pringá» is a delicius culinary specialtry from the Spanish region of Andalusia. A small sandwich filled with «pringá» is a mixture of roasted and shredded meat. The meats are cooked in their own juices, seasoned with local spices, garlic and herbs. Once cooked, the meats are shredded and generously placed inside a small bread roll, creating the «montaito de pringá».
Seafood dishes
With its proximity to the Atlantic Ocean and the Mediterranean Sea, Seville boasts a delectable array of seafood dishes. 
Boquerones en vinagre (fresh anchovies marinated in vinegar).
Choco a la plancha (grilled cuttlefish).
Gambas a la plancha (grilled shrimp).
For an authentic maritime experience, seek out a marisquería, a seafood-focused restaurant. Let the flavors of the sea transport you to the coastal regions of Andalusia.
Paella and Arroces
While paella is more commonly associated with Valencia, Seville has its own take on rice dishes.
Arroz con pollo (rice with chicken).
Arroz negro (black rice with squid ink).
Arroz a la marinera (seafood rice).
These hearty and flavorful rice dishes showcase the culinary diversity of the region.
Discover Cooking Paella experience on a private rooftop with Sevilla's Cathedral view.
Come and discover some of these dishes in the wonderful neighbourhood of Jewish Quarter.
Tapas Tour Seville – 3 of the best tapas bars in Seville
In Seville, tapas are not just a meal. They are a social and cultural experience. Locals often gather in tapas bars, known as «tabernas» or «tasca». Then, they enjoy good food and company.
Seville Unique Experiences explores the unique atmosphere of the best tapas bars in Seville.
El Rinconcillo, one of the best tapas bars in Seville
As we embark on the tapas Tour Seville, El Rinconcillo is a must-visit.
Established in 1670, it proudly holds the title of the oldest tapas bars in Seville. Stepping into El Rinconcillo feels like entering a culinary time capsule, where tradition and authenticity reign supreme. The menu is a testament to the bar's historic roots, featuring classic tapas.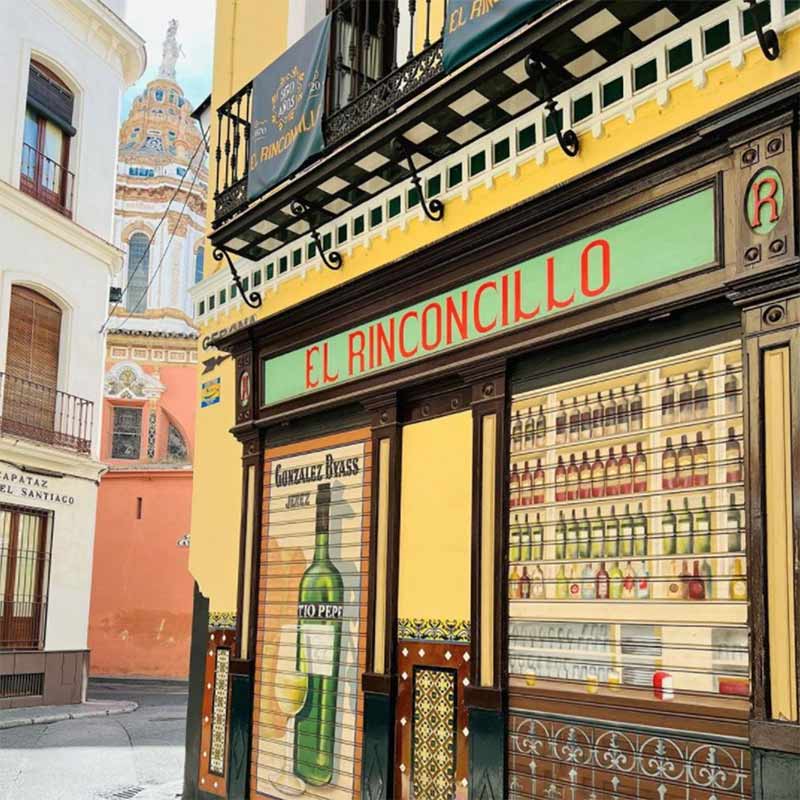 Bodega Santa Cruz Las Columnas
In the Barrio Santa Cruz lies Bodega Santa Cruz Las Columnas. This bustling tapas bar that has become a local institution. The menu is diverse, featuring an array of cold and hot tapas, from the refreshing gazpacho to the sizzling patatas bravas.
Order a glass of sangria or tinto de verano to complement the flavors and embrace the true essence of Andalusian hospitality.
Bodega Santa Ana
Bodega Santa Ana is a perfect blend of tradition and innovation, offering a contemporary twist to classic tapas. The sleek and modern decor sets the stage for a culinary experience that goes beyond the ordinary.
The menu showcases a fusion of traditional Andalusian ingredients with global influences, resulting in dishes like salmorejo with mango and Iberian ham or grilled octopus with black garlic.
Pair these innovative creations with a glass of local craft beer for a delightful taste of Seville's evolving tapas scene.